It was a rare event at Santa Anita Derby this Saturday to see the paddock missing trainers. The number of horses versus the number of humans was nearly double.
This oddity could be explained by the absence of Bob Baffert and his horse Mastery who suffered a leg fracture last month and he needed to take some time off. Mastery may need a very long time to recover and may not be able to return again. Baffert said that Mastery will remain in his barn for at least a month and when the injury has healed he will decide if the horse will come back to race or not. Hopefully, Mastery will heal and come back soon.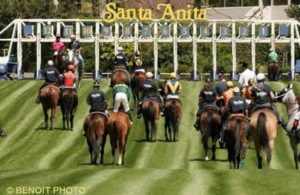 Therefore, due to this major absence and injury, the West Coast horsemen pushed forward their 3-year-old horses. As result, 13 horses were entered in the competition and making a big crowd at the starting gate. 13 horses, an entire army of horses, are the most that were entered for this event in the last 36 years.
Now obviously Baffert will not participate in the Arkansas Derby next Saturday. One of his horses, Reach the World, placed one spot on top of Iliad, O'Neil's horse. Iliad belonged to Baffert until the stable of Shah disintegrated last December and the owner had to hand off the horse to O'Neill.
John Shirreffs sent out only two horses. Gormley ran and reached the finish line two and a half lengths ahead of Battle of Midway and Royal Mo, his other horse was third, just in front of the entire O'Neill-Baffert dangerous horse team. Apparently, Shirreffs who haven't won a competition in a very long time, he managed to earn a great result with his two horses. He won only one Kentucky Derby many years ago with Giacomo at odds of 50 to 1. Gormley is a superstar now and could become the number one preference of the betting public.
The Derby at Santa Anita closed Saturday with many questions about the horses and riders, as the Triple Crown series approaches.