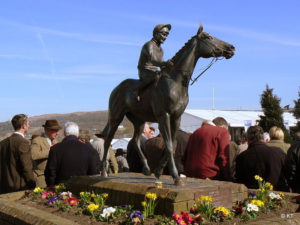 The Cheltenham Festival is an event that takes place in the UK where we can see horses jump over fences and ditches during a race. This 4-day event takes place at Cheltenham Racecourse in a town named Cheltenham every March, and this year the festival was held from the 16th of March 2021 till the 19th of March 2021.
The festival is not only popular among the British audience but also for the Irish. This is probably due to the fact that the festival is held at the same time as Saint Patrick's Day. Naturally, the Cheltenham Festival is known for its great atmosphere and the famous "Cheltenham roar". The crowd makes so much noise after the starter raises the tape that announces the first race of the event.
In addition, the festival consists of a number of Grade 1 races, including:
Champion Hurdle
This is a National Hunt hurdle race in which horses are open to competing if they are at least four years old. The race takes place at the Old Course at Cheltenham, and the distance of the race is approximately 2 miles and ½ furlong. The total number of hurdles that horses have to jump over during the race is 8. The Champion Hurdle is held on the opening day of the festival.
Queen Mother Champion Chase
The Queen Mother Champion Chase is a steeplechase where five years old horses can competeThere are 13 fences on this 2-mile long track.
Stayers' Hurdle
One more Grade 1 race that takes place at the Cheltenham Festival is the Stayers' Hurdle. The lower age limit of the horses that can compete is four years. This race is held at the New Course, and the distance the racers need to run is 2 miles, 7 furlongs and 213 yards. The total number of hurdles the horses have to jump over is 12. This race is held annually during the 3rd day of the Cheltenham Festival.
Cheltenham Gold Cup
This is yet another National Hunt race that is held on the New Course during the Cheltenham Festival. The distance that the horses cover during the race is around 3 miles. The horses have to jump over a total of 22 fences during the race.